E0054 | 2018! Hay as Mulch for a Garden

Podcast: Play in new window | Download
Subscribe: iTunes | Android | RSS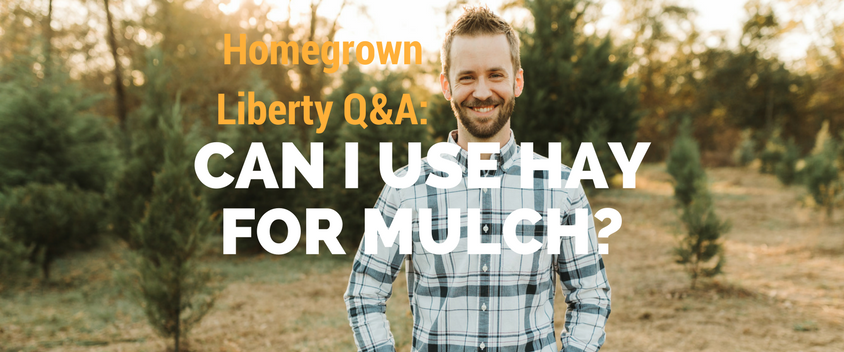 Welcome back to another episode of the homegrown liberty podcast! I'm going to try to do something this year, short Q&A episodes where I don't have to do a ton of research to get you a great answer. Some episodes may just be a topical episode where I let you know what we're doing here on my property, or it may be what I think about a certain gardening method for instance, Back to Eden gardening. In no way am I promising I'll have episodes for every week. My commitments to putting out video content and consulting are going to take priority and we have a whole heckuva lot to do between now and June. If I'm away from home doing a consult, then most likely there will be no show. But I'm gonna give this a go and see if I can pull off more informal episodes weekly. I'm starting work on a barn and beginning work on a food production system that I'd love to see instituted on each of your properties at least in a small way. I'll be treating the podcast as more of a way to just keep in touch with all you guys so I can reduce my time spent on social media and spend more time getting stuff done. So without further ado, let's get into the topic!
Question of the Week
Molly's email reads:
Can hay be used as a compost/mulch for the garden?
Details: We have been building soil in our 2 year old 50 x 50 garden. We were given a roll of hay so we spread it over the garden this fall so that it could naturally compost down by spring. The problem:  Once we dumped it in the garden and started spreading it, we noticed hundreds if not thousands of little seeds. We DON'T want to grow a hay field but it was too late to get it out.
My thoughts: If I let it rot down all winter, can I then cover the whole garden in thick black plastic in early spring to kill the seeds?  I thought I could cut out areas of the plastic that I want to plant in then cover the entire area in mulch after planting.
Did we totally mess up by putting this hay down?
Thanks,
Molly
Thanks for the great question! So the short answer is "hopefully you didn't totally mess up".

I live somewhere that the hay consists mostly of coastal bermuda hay and that stuff is incredibly difficult to get rid of once it's growing in a space. And actually, the way you grow coastal bermuda is to take the cut hay and spread it where you want it to grow and pretty soon that's what you have, a bermuda hayfield. It will root from the nodes, so if you look at the grass and examine the length of the stem, you'll see a slender stalk the swells out to a belly and then reduces back to a slender stalk. That swelling point is called an internode. That part contains undifferentiated cells that can morph into leaves, stems, or roots. And when it comes into contact with moist soil, it roots. So you can spread the stuff through putting those nodes in contact with soil.

You may have hay that was full of grass seed, or other weed seeds. If it's some other species of hay, then I'm not very well versed in the plant morphology or physiology of the common hay species so I can't give any specific advice. What I can do is talk about some generalized solutions that might help you and one in particular that I think will be the most useful to ya. And with luck, you may not have a problem at all. I know that Ruth Stout gardened in Connecticut and used a method where she just put hay down thickly over her whole gardening area and whenever something green showed up that wasn't a garden veggie, she grabbed a big armfull of hay and dropped it on top of the green stuff. Worked fantastically for her. I'm trialling this method using bermuda hay this upcoming year in a space I'd be happy with growing grass to let you guys know if it works even with bermuda grass hay. I'm a bit leery of using this method where I live because of fire ants, and deep mulch will often hide a massive fire ant mound and you won't know they're there until you step on the spot and all of a sudden there's 5 billion fire ants stinging your leg from crotch to toes and it's quite unpleasant to say the least. So there's hope that you may be able to just roll with it and add more hay to keep it thick 1'-2' thick if I remember her method correctly. If that's wrong, let me know in the comments!

You mentioned black plastic in your email, using black plastic to lay on the soil surface will heat the plastic, and through physical contact will heat the soil, to a lesser degree the hot plastic will heat the air and warm the space between the plastic and the soil. This process is called "Occultation". It's the method of darkening the area in question which normally means using a tarp or plastic film. It keeps the soil moist and warms the soil making for perfect germination conditions for seeds that require darkness to germinate. Given enough time this will kill grasses because they will exhaust their starch reserves in the roots and starve to death. But it takes a long time to do this. You may have to leave the plastic on for months on end during the growing season.

Another option is to use a method called "solarization" and this is the one I'm a much bigger fan of lemme tell ya! To solarize your garden space you'll need clear plastic. I really prefer the UV stabilized 92% light transmission greenhouse plastic that you can order from greenhouse supply stores online. It's not very expensive and is rated for a 4 year lifespan, but if you take care of it and don't put holes in it, use it only for solarization, then I'd be surprised if you got less than double it's rated lifespan. To solarize, just clean up the area to be treated, and wet the whole area thoroughly. You want wet soil because it's gonna get hot under there and a wet heat will kill faster than dry heat. So make it wet! Then you'll need to weigh the edges of the plastic down to make for a good seal. You could dig a trench around the whole area just shorter than the edge of the plastic so the plastic falls in the trench and gets filled with the removed soil, thereby holding down all the edges, or you could weigh it down all the way around with scrap lumber or rocks. Whatever you choose, just make sure air isn't flowing from outside to under the plastic, you want it to heat up like a greenhouse under there.

And that's the way it works. It allows the sun's rays to penetrate and heat up the soil and plants, then it traps the heat under the plastic and it gets WAY hotter than black plastic would. Just imagine sitting in a lawn chair inside one of two tents during a sunny day. A black one, or a clear one. If you say you'd rather sit in the clear plastic tent on a summer day, then you've never been inside a greenhouse. The black one would be hot, but the clear one would fry you like an egg.

That's our goal, to fry those weeds and grasses and kill em.

So you have some options. The solarization will kill more weeds and grasses, you'll want to stick a cheapo analog thermometer in the middle of the plastic sheet area to monitor the soil temps. Generally if you're over 140F you've killed most pathogens and plants as well as seeds. 160F is great.

If you wanted to, you could do the whole area, but you're missing out on the early growing season because you'll be solarizing for probably a month or so. And that might make you miss a great planting window. Or you could do half the garden with clear plastic, and the other half, you could double down with the hay and hope it smothers out weeds.

I think if you go with the second option, you'd learn more about what works best for your situation and still gets you some garden produce in the early season. If you plant into the heavy mulch, just pull it back to expose the soil and plant into good soil. If you have questions, ask in the comments section or head to my patreon page where I am active answering questions every day and ask away. The address for my patreon page is www.patreon.com/homegrownliberty. Or you can email me a question directly to nick@homegrownliberty.com

Do Good Things!