Podcast: Play in new window | Download
Subscribe: iTunes | Android | RSS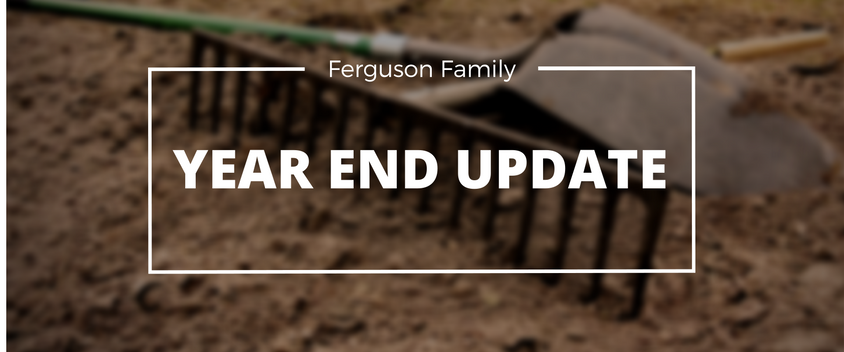 Today is the last episode of 2016 and our Year End Update!
Welcome back to another episode of the homegrown liberty podcast and today will be kind of a 2016 recap and an update on what we've been up to here. As well as letting you all know what we are doing in the upcoming year, and I have both some good news and some bad news.
Pigpig in the Freezer
We got Pigpig in the freezer finally, we've been really enjoying the fresh pork for some time now and we set up a 100% repurposed material cold smoker. It sat in the fridge salted for a week or so before we smoked it and it's fantastic. We are so excited about having our own bacon.
I still haven't bought a scale to weigh all the yield, but it really doesn't matter, just bragging rights. What matters is that we raised her well, she lived in forest her whole life, and she got to absolutely pig out on a really nice white oak acorn drop this fall. The meat smelled fresh and clean, no odor except for a slight nuttiness. The leaf lard was so great that it was turning to liquid with body heat. It smelled slightly of acorns and pecans. Looking forward to rendering that for pastries this winter. We're just very thankful for the harvest and the good food. I tell ya what, that stuff really fills ya up. Eating real, healthy food is amazing how it will satisfy with very little. We are realizing that unless we also have a whole beef in the freezer as well that one pig will not be enough to last us the whole year. I'm going to be experimenting with old fashioned meat preservation methods next time. I'd like to make some hams and old fashioned bacon, proscuitto, etc.. I want to be able to hang a lot of it in the pantry inside and not have so much taking up room in a freezer. A big goal is to get our electricity usage down as much as possible. One day I'd love to build us a more energy efficient home, earth bermed, with geothermal cooling and wood heat. We'll still have an air conditioner to help on the hottest days. But My goal eventually is to become as independent of needing outside inputs as is reasonable.
Puppies!
We got the boys a couple puppies for christmas. They've been asking for ages for a dog and we found someone who had a litter of puppies that had to go to homes or they would end up in an animal shelter. So we took two male pups and the kids are in love! It's really cool to see them taking so much responsibility for those little dogs. Titus is up and dressed for the day to take the puppies outside to use the bathroom and run around for a while before breakfast. It's going to be really fun when they get big enough to spend a lot of time outside with the kids running around and playing. I imagine this upcoming summer is going to be a blast with young dogs swimming in the lake!
Christmas Present for Catie
I went to one of the big hardware home improvement stores and checked out the landscaping area outside where they had plants on sale. And man did I strike it good! I ended up with enough pansies and snapdragons to fill the flowerbeds and give Catie a wonderful and colorful flowerbed in front of the house this year. Very happy wife! And if you know me, you know one of my favorite sayings is "happy wife, happy life".
Garden
Garlic and perennial onions are just rocking! They're about a foot tall right now and doing great. That's something I think would be really great to bump up planting of in the future. I'll be saving every single one of the perennial onions we grow to plant out again next year. And I'll probably order some extras. I'm hoping we can get enough onion beds growing that we can just go out and harvest those perennial onions as needed and have enough perennial production to meet our needs in the future but it's going to mean really stepping up the numbers for sure. We're building new garden beds, and expanding our ability to produce lots of food. Exciting stuff!
Refocusing The Homestead
We're redoing a lot of the homestead and changing the use of several systems we set up years ago. Some of the buildings were placed the only available location which weren't at all optimal, so now that we're able to set things up better, we are. The original garden is being changed to zone 3, which will be mostly perennial veggies, trees and shrubs. Some annual veggies like squash and sweet potato will grow in the understory but for the most part we won't be going out there but once or twice a month.
Chickens are being moved closer to the house, pretty much everything is being moved or set up closer to the house. We're building raised beds this winter that are all close to the east facing wall. It's a blessing and a curse really. The tough thing is that it's a TON of work. The good thing is that we get to do things the right way and we can video all the progress, and make lots of instructional videos on how to do this stuff and set up an efficient homestead layout. I've been doing the podcast thing for a year now and there are so many things I want to share with you guys that just don't translate well with just the spoken word. I need to show you what I'm talking about so I'm going to be giving that my everything! I've been living this lifestyle for almost a decade now, and if you add in the years as a kid where I gardened and tended goats, I have probably closer to 20 years of my 33 years of life spent in these types of pursuits. So I really feel a burden to share what I know, the mistakes I've made and the insights I've gained. The mistakes thing is one of the biggest.
I want to help you guys see the real gritty reality. The failures and the successes too. But the hard stuff alongside the joys. I think a lot of people are enamoured with the lifestyle and don't really understand how difficult it is sometimes. It can be a cold shock when things go horribly wrong when all you've seen were the pretty photos of lush growth, the garden when it's at the most beautiful, the picture perfect tomato, or squash. I don't recall seeing many examples of the day to day reality of living this closely to the land. I'd like to bring that to you all. But we'll get to that in a minute.
Spring Install Consults
Looks like my spring is going to be filling up fast so if you're wanting me to help you install any swales or ponds, you need to email me sooner rather than later. My time is first come first served unless you have me on retainer. But I'm doing something special for all the listeners of the podcast and readers of the blog. If you've been wanting to have me out to do a consult, or to help you implement a design, or plant a food forest. I'll be offering all you guys a limited time offer. If you contact me in the month of January with "HL 2017 Consulting Offer" I'll give you a 25% discount on the cost of consulting. This will require a non-refundable deposit to lock in your consult date. Please only put "HL 2017 Consulting Offer" in the subject line so it'll be easier for me to keep everything straight because I get a lot of emails and I don't want yours to get lost. That sometimes happens and I feel bad when someone's waiting to hear back from me and I didn't know I was sent the email.
I'm not going to offer something like this for a long time but I feel like there is a lot of need out there and I want to help as much as I can. So I'm doing this specially for all you guys this winter/spring only! This winter, going into spring is the time to get this done! It's important to get earthworks done when you will still get enough rainfall to germinate the cover crop seed to prevent erosion! Additionally, if you're planning on planting bare root trees, then you better get your order in ASAP or the nurseries will be sold out of the best stock. Get your orders in! So send me that email even if you live 10 or 20 hours of driving away from me because I can and do often do traveling tours where I make a big circuit through a big chunk of the USA and go to multiple locations in a row. Don't think you shouldn't shoot me an email just because it's a long way to travel.
I'm also going to be doing another special thing where I will do a distance consult. I'll have more information on this right after the first of the year, but I'll give you the brief overview here now. It will require that you video a short tour of your property and basically take me for a walk with you. I'll be shooting an example video of what that looks like so you will know what is important. You'll put that video content onto a thumb drive and mail it to me with a filled out questionnaire I'll have available on the blog and enclose your payment. Then we'll set up a time and a day to get on the phone or facetime if you have an iphone and we can review the property and I'll give you my thoughts and ideas for how to design or improve what you already have in place. So stay tuned for all that info in a blog post next week.  You can email me at nick@homegrownliberty.com
Some Bad News Before the Good News
Folks, we all have to be realistic in our expectations and our abilities and to not overextend ourselves with commitments. And I know that going into the next 4 months or so that I'm going to be overextended if I continue to do this show. So with a heavy heart, I'm letting you guys all know that I'm putting the podcast on a temporary and undetermined break. I stuck with it for a year and only took off once when I was sick and once for christmas week. I hate to stop doing the show but there is so much I want to be able to teach you all that I just can't, by speaking into a microphone sitting at my desk.
The show is just not going to fit into the busy schedule this winter/spring. Maybe I'll pick it up again later in 2017, we'll just have to see. I may just post periodic updates throughout the winter and spring to let you guys all know what we're doing and to show some photos of progress on the blog and in the facebook group but I can't promise that I'll have time for it.
The Good News
I'm going to be spending a lot more time in front of a camera and doing things I really need to do on the homestead. I have a lot of food production systems I need to get setup for the upcoming year, lots of infrastructure to build, and lots of consulting I'll be needing to do. But the exciting thing is that I'll be putting out a ton of video content and hopefully early this year I'll be able to make one of my dreams become a reality. I'm going to work real hard on this and try my best to knock this new project outta the park. Oh man I wanna spill the beans but I can't. This has been a work in progress for a long time, learning skills, working out technical issues. I'll post an episode with the news, as well as on social media and whenever I guest star in any other podcasts. I'll also send out an group email to everyone who has signed up for my email list. So if you want to be sure you get the notification as soon as I can make it, be sure you're signed up on that email list!
With that all said. I'm not going anywhere, just refocusing and adjusting expectations and the venue where my energy is being poured into. I'll still be active on the facebook group and I'll still be around to help you guys. But I promise that if I can get all this stuff figured out and implemented the way I think I can, then you're gonna be so happy I did.
Alright, I have a long list of chores to do today. I need to run to town, get some rabbits bred, and do some work in the garden to prep for some winter planting!
Until next time, I hope you have a wonderful new year, God Bless. And as always "Go Do Good Things"